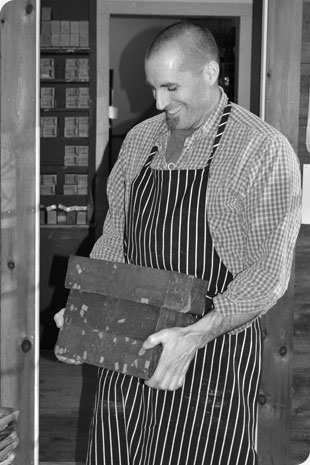 We are pleased to offer you the very finest in goat milk soaps. Each batch is made right here in our shop of our 1800's farm using only the milk from our happy (and often spoiled!) herd of dairy goats. We pack as much milk as we can into each bar for the maximum effect on your skin. Each soap is truly a unique work of art with a quality all it's own. We hope you get the chance to try them all. We think it is the best soap and body care line in the universe!
All of our goats are hand milked twice each day. We are pretty particular about their care, such as certified organic hay and the best grain. They get fresh sheets (clean shavings) every week or more often if necessary, new sneakers (trimmed hooves) on a regular basis and plenty of human interaction. They each have a name and very unique personalities. We maintain a herd of mixed breed dairy goats and a small herd of Nigerian Dwarf goats.
Our goal for the future is to keep adding the products you'd like to see. We don't ever plan on getting huge and selling the company. We enjoy what we do and that shines through in our products and our service to you. Our goal is to continually create superior products that our customers feel confident using on themselves and their families. It is important to us to create a strong connection between our customers, our craft and ourselves.
One final note…farming is hard work! It is definitely a lifestyle choice and not for everyone. Our days usually run from 6 am – 10 pm. We are on call 24/7 and the sacrifices are many…..but the rewards…magical!
Thanks for stopping by!
Peter J. Corriveau
Proprietor / Soap Maker